Dr. Jesse J. Suess, D.C.
Dr. Jesse grew up in Southern Bergen County, New Jersey. He attended Montclair State University where he completed coursework in Exercise Physiology, Kinesiology and Physical Education. While in school at Montclair, he suffered from back and neck pain after being involved in a car accident. After just a few weeks of Chiropractic care he began to notice a drastic improvement in not only his neck and back pain, but he also began to notice an increase in his energy level and all around health. After experiencing the benefits of Chiropractic care firsthand, he decided to switch careers.
Dr. Jesse attended Logan University-College of Chiropractic in St. Louis, graduating with a Bachelor's in Life Sciences and his Doctorate of Chiropractic. While at Logan, Dr. Jesse stayed very involved in his community by coaching youth sports and working at the YMCA as an after school care counselor at a local elementary school. Dr. Jesse continues to be devoted to giving back to his community. He currently teaches health and physical education at Young World Day School, a privately owned elementary school in Mahwah, and stays involved in the youth sports programs within our community.
In his personal life, Dr. Jesse makes a valiant effort to practice what he preaches. He stays active by feeding his passion for the game of Baseball. On the weekends in the spring and summer you can find Dr. Jesse on the baseball diamond coaching a little league baseball team, and he is an active member of the Professional Baseball Chiropractic Society. Dr. Jesse also enjoys working out and playing golf. He also loves cooking and he cherishes spending time with his family and friends.
These life experiences have allowed Dr. Jesse to gain experience in child and family care as well as sports injuries, which in turn led to his passion for treating pediatric patients and athletes. Dr. Jesse J. Suess believes in the innate wisdom of the body, that through proper nutrition, daily exercise, and regular Chiropractic care a lifestyle full of health and wellness will be achieved!
Dr. Kirsten Park, L.Ac
Dr. Park received her Master of Science from Pacific College of Oriental Medicine in 2014 and subsequently went on to achieve her Doctorate of Acupuncture and Chinese Medicine in 2016 from the Pacific College of Oriental Medicine. She is a New Jersey board licensed Acupuncturist and Herbalist and a designated Diplomate in Oriental Medicine by the National Certification Commission for Acupuncture and Oriental Medicine (NCCAOM). Dr. Park also has experience with other modalities of Oriental medicine aside from acupuncture, such as cupping, gua-sha, tui-na, and Chinese herbs.
Phone
(201) 972-6121
Location
22 Wyckoff Ave, Suite 1
Waldwick, NJ 07463

Chiropractic Hours
Monday 3p-7p
Tuesday 9a–12p ; 3p-7p
Wednesday By Appointment
Thursday 9a–12p ; 3p-7p
Friday CLOSED
Saturday 9a–12p
acupuncture hours
Monday 3p-7p
*Tuesday, Wednesday, Thursday, Saturday by appointment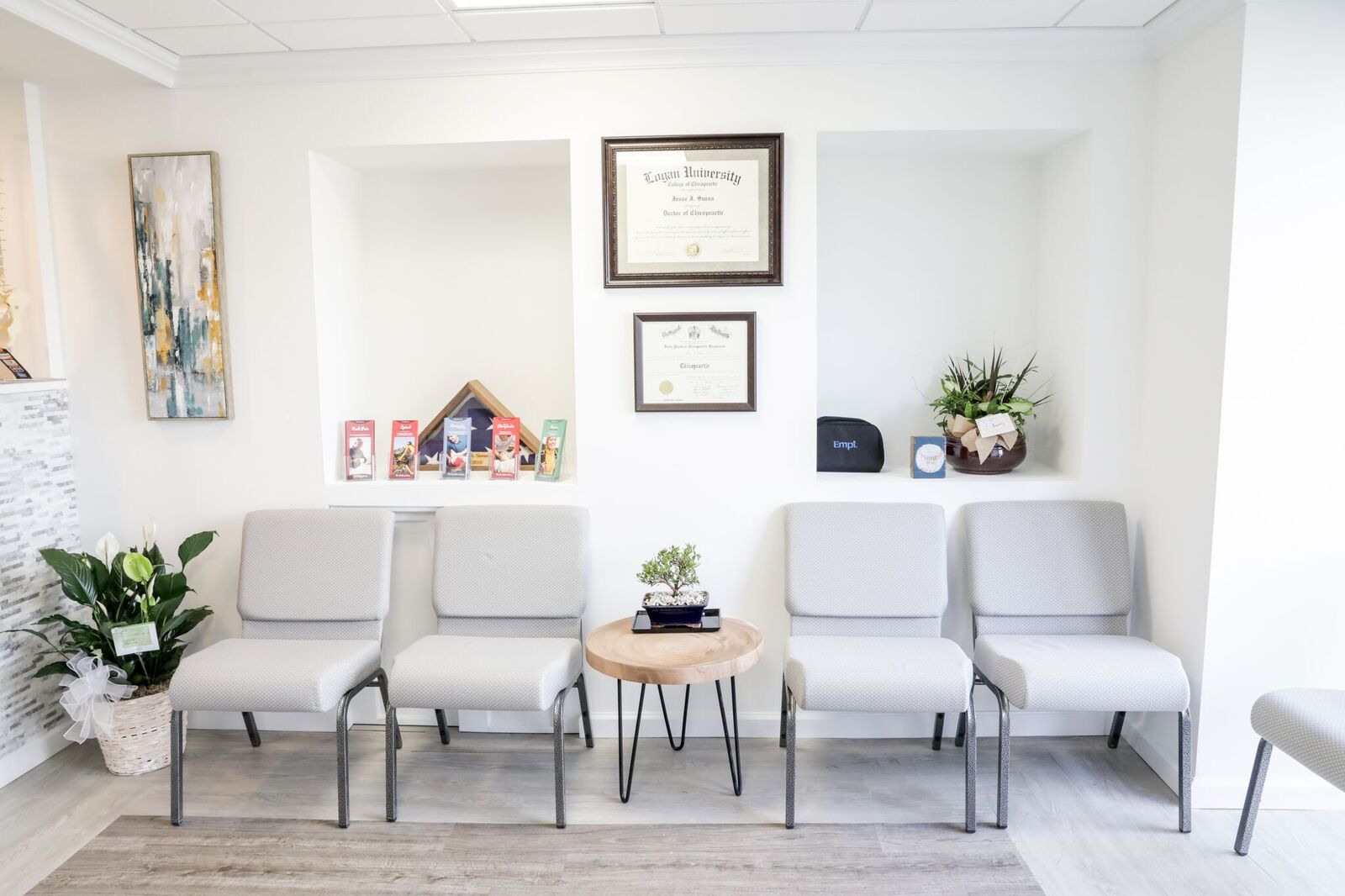 WHAT IS CHIROPRACTIC?
Chiropractic is a healthcare discipline that emphasizes the inherent recuperative power of the body to heal itself without the use of drugs or surgery.
As a natural form of health care, chiropractic relieves tension on the nerves, allowing your body to function how it's supposed to. Patients of all ages from infants to adults can benefit from this drug-free, effective form of care at Suess Family Chiropractic.
THE CHIROPARCTIC ADJUSTMENT
The Chiropractic adjustment typically involves a specific force to a vertebra, aimed at correcting spinal subluxations. The goal of adjusting the spine is to restore proper motion, improve spinal function and remove interference from the nervous system.
There are many different adjustment techniques used by the Chiropractic profession. Dr. Jesse will deteremine what techinques are appropriate for you and your condition.
HOW ARE KIDS ADJUSTED?
Rest assured that Dr. Jesse always provides safe and gentle adjustments for patients of all ages, particularly children. He will ensure that your child is completely comfortable. Whether they are lying on the table, in your arms, on your chest, or playing on the floor, there are multiple ways that Dr. Jesse can successfully adjust your children.
WhAT ARE THE BENEFITS OF CHIROPRACTIC?
While many patients initially seek Dr. Jesse to get them out of pain for conditions such as:
Headaches (including migraines and tension headaches)

Whiplash

"Pinched Nerves"

Pain and stiffness in neck, shoulder, and arms

Sciatica

Arthritis

Ear Infections
Many patients also discover functional improvements following care such as:
Improved Sleep

Reduced Stress

Better Overall Mood

Less GI Disruption

And More!
Chiropractic techniques USED at Suess Family Chiropractic
Diversified Technique
Diversified technique is the High Velocity/Low Amplitude (HVLA) adjustment that is most commonly used throughout the field of chiropractic. As the name implies, the Diversified Technique can be used to treat many of the joints in the body and is the primary technique used by the doctors in our office.
Cox Flexion-Distraction
This low-force technique utilizes a specialized table that is designed to induce flexion in the spine. The technique, originally developed by Dr. James M. Cox, is based on the application of small, precise amounts of flexion distraction to the part of the spine experiencing disc compression or herniation. As the vertebrae in question are gently pulled away from each other, negative pressure draws the herniated or bulging disc back into position, relieving nerve pressure and pain and moving much-needed fluids back into the disc.
Thompson Technique
The Thompson Technique, or "Drop Table Technique" utilizes a specific function of the adjusting table in which a thrust is applied to a specific area of the spine. The Thompson technique derives its name from the founder, Dr. Clay Thompson, who fully patented this method in 1957. The main areas that are treated are the pelvic, dorsal and lumbar regions. This method has grown to be loved because it is not painful and uses the least force, because the thrust brings about movement whereas the fast drop will help the joint go through the rest of the required motion.
Check Out Our Latest Healthcare Related Posts and Articles!
Contact Us
Our office is a first floor suite located on Wyckoff Avenue in Waldwick New Jersey. There is plenty of free parking available.
22 Wyckoff Ave., Suite 1
Waldwick, NJ, 07463
(201) 972-6121